Church of San Gregorio Magno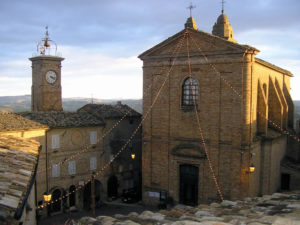 The church of San Gregorio Magno owes its name to the patron saint of the town and is located in the historic center of Magliano di Tenna. It was built during the 18th century on the remains of an old Farfa settlement. The building is articulated along the wide central nave decorated laterally by a series of altars and paintings by the brothers Ricci of Fermo, Litterio Ricciardelli of Messina and some of Gandolfìs pupils. The church is important for a late fifteenth-century fresco attributed around the mid-twentieth century to Vincenzo Pagani, located at the right of the apse. This attribution still leaves ample doubts about the painter's authenticity, as there is no evidence of Pagani in Magliano di Tenna but the stylistic imprint of the fresco makes us lean towards him or one of his pupils. At the center of the composition we find the Virgin Mary holding baby Jesus sitting on a cushion while grabbing a goldfinch.
In fact, this bird, as well as the coral necklace, are symbols referent to the Passion to which the Child will be called. At the right of the Virgin we find Santa Lucia, recognizable by the attribute of the plate with the eyes that she holds in her right hand, while with the left she is intent on indicating members of a confraternity in devotion to the sides of Mary. Among the confreres indicated by the Saint, one in particular stands out, who seems to observe us: the intent is to invite us to join in prayer as a sign of devotion.